The Ultrasound App by EFSUMB
The Ultrasound App by EFSUMB is now available to download to your Mobile phone / Smart phone or iPhone.

You can use the QR code (right menu bar) or the links to access it with your mobile phone or if you visit www.efsumb.org on your mobile devices the App will automatically display.

To add a EFSUMB Ultrasound App icon to your Home Screen of your mobile phone please follow the instructions below of Android or Apple devices.
1. ANDROID

In Chrome
Launch Chrome for Android and open www.theultrasoundapp.org that you want to pin to your home screen. Tap the menu button and tap Add to homescreen. You'll be able to enter a name for the shortcut and then Chrome will add it to your home screen. The icon will appear on your home screen like any other app shortcut or widget, so you can drag it around and put it wherever you like. Chrome for Android loads the website as a "web app" when you tap the icon, so it will get its own entry in the app switcher and won't have any browser interface getting in the way.
In Firefox
Firefox for Android can do this if you tap the menu button, tap the Page option, and tap Add to Home Screen.
2. iOS
For now, Safari mobile doesn't allow to display a popup, you need to use the browsers settings.
1/ Open the browser by tapping on the Safari icon.
2/ Navigate to the App address
www.theultrasoundapp.org
that you wish to add as a home screen icon.
3/ Tap on the Share button at the bottom of the browser window. It's represented by a square with an up arrow in the foreground.
4/ The iOS Share Sheet will now appear, overlaying the main browser window. Select the option labeled "
Add to home screen"
.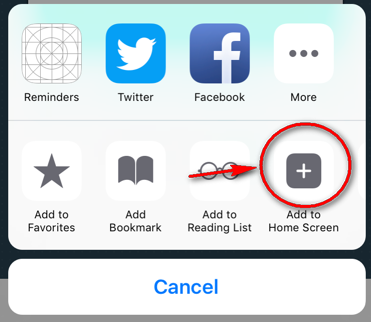 5/ The Add to Home interface should now be visible. You can edit the name that will be shown under the shortcut icon you are creating on your home screen.

6/ Once you are done, tap the "Add" button.
You will be taken back to your iPad/iPhone's home screen, which now contains a new icon mapped to the EFSUMB Ultrasound App.
The Ultrasound App is a live version of the web specially produced for those on the go. It is updated daily to keep you up to date with all the latest events, training, Euroson schools, Course Book Chapters, webinars and the guideline releases as they happen.